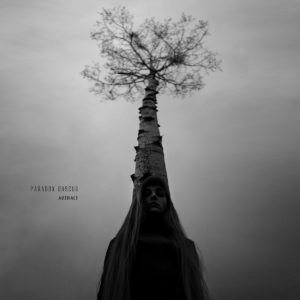 Artist: Paradox Obscur 

Album: Artifact
Genre: Minimal Wave, Darkwave, Synthpop
Released: 2017

---
The Greek duo Paradox Obscur, consisting of Toxic Razor and Kriistal Ann, certainly became a constant in the minimal dark music sphere of the last years. After their debut in 2014 and its successor the year after, Paradox Obscur recently presented their third long-player Artifact. In March Kriistal Ann revealed to me that the new album would "touch the whole range from coldwave/darkwave, minimal, even disco. It is an album for all tastes¹!" And I can imagine that I was not the only one anxiously waiting for that release.
The sound of Paradox Obscur always was minimalistic and dark synthesizer music. In this they are unique, not least because of Ann's and Razor's characteristic vocals. In an interview I made with Ann a while ago, she declared that she doesn't even come from the dark direction of music: "Generally my influence was never too dark but I always had a tendency towards internal music¹."
Artifact seems to be very dark to me, and I asked Kriistal Ann about that. The answer was quite surprising: "I think exactly the opposite, this album contains the sunshine as a hope in the melancholy of our times, some songs can have a tragedy through which cold air is deferred, but always in the scratches of the exuberance, there is a warmth that gives intimate feeling to the listener as a shelter²*."
Artifact is still experimental, yet more straight-forward and consistent than their previous records. And, most importantly, the album is very danceable.
Of course I have more than one favourite song from Artifact, namely 'Afterlife Effect', because Razor's and Ann's vocals dissonantly melt into each other (hah, I am curious how you imagine that now!), 'A Different Hum' touches me in my most inner, 'Desert of Distress' has the highest danceability-index, and 'Storm' the nicest synth line.
To the question what her fav Artifact-song is, Ann replies cryptically: "Favorite song does not exist on this album, there is a melodic exaltation that represents all stages of psycho-metering. It is like a thermostat line that starts from one point and reaches a completely different, with a diversity that fills all the gaps that an emotional requirement has²."
All in all, Artifact is the good stuff we all long for. And amongst the good stuff it is one of the better.
*The crux here is simply that our definitions of the term "dark" differ from each other. I presume that that what Ann calls "internal music" is very similar to what I mean with "dark music". Although I have to admit that the term "dark" is very vague and deserves further attention.
---
Tracklist
01 – Twilight
02 – Desert Of Distress
03 – Artifact
04 – In Control
05 – Enhancer
06 – Afterlife Effect
07 – Ashes
08 – Storm
09 – A Different Hum
10 – Testimony
Πηγή: http://www.savetier.eu/